Conference - Workshop - Seminar
The Institute of Agricultural Genetics (AGI), a joint laboratory of AGI, International Center for tropical Agriculture (CIAT) and RIKEN Center for Sustainable Resource Science (RIKEN CSRS) hosted the symposium on Current Advances of Genome Editing Technology and its Application in crop improvement on May 12, 2017 in Hanoi.
On 19th May 2017, the Vietnam Academy of Agriculture Science (VAAS), the Agricultural Genetics Institute (AGI) in collaboration with CropLife Asia joint organized a knowledge sharing meeting on "Gene Technologies Regulatory Practices – Sharing from Australia".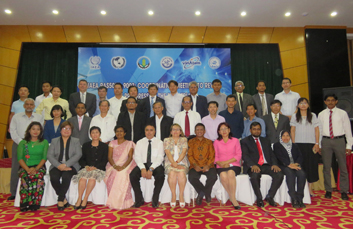 From July 3 to July 7, 2017, at the Bao Son Hotel, Hanoi, the Institute of Agricultural Genetics in collaboration with the International Atomic Energy Agency (IAEA) held an IAEA/RCA RAS/5/070 Coordination Meeting to discuss conducting field trials within the framework of the project "Developing biofuel crops to optimize marginal land productivity through mutation breeding and Related Techniques (RCA)".